From pediatric to adult patients, leukemia affects each person differently. And that is why Nebraska Medicine brings an entire team together to work toward a single diagnosis and personalized treatment plan for you.
We have made huge advancements in the treatment leukemia over the last several decades. Patients who receive care at Nebraska Medicine also benefit from our experienced team of cancer experts in the field of blood and marrow transplants.
Types of Leukemia We Treat
The Leukemia Team treats all forms of leukemia, myelodysplastic syndrome (MDS) and more. In addition, the team commonly treats patients with bone marrow failure problems, such as aplastic anemia, large granular lymphocyte leukemia and pure red cell aplasia as well as myeloproliferative neoplasms.
Acute Leukemia
Acute Lymphocytic Leukemia (ALL)
Acute Myelogenous Leukemia (AML)
Acute Promyelocytic Leukemia (APL)
Chronic Leukemia
Chronic Lymphocytic Leukemia (CLL)
Chronic Myelogenous Leukemia (CML)
Hairy Cell Leukemia (HCL)
The Highest Level of Treatment Methods
Nebraska Medicine doctors work with you to choose the best possible care plan tailored to meet your needs. Patients undergoing cancer treatment at Nebraska Medicine also have access to our 24/7 Infusion Center at the Fred & Pamela Buffett Cancer Center, which serves as both a treatment center and 24/7 urgent-care-type facility. A rare offering in the region.
Treatment Methods:
Targeted Therapies - these are drugs designed to target specific genes or proteins in types of cancer cells that spread the cancer.
Service Options
Why come to Nebraska Medicine?
We Are Early Pioneers in the Field
Nebraska Medicine is one of the early pioneers in the field of blood and marrow transplants, one of the primary techniques for treating patients with leukemia. Our cancer specialists have been recognized internationally for a number of ground-breaking advancements in this area. These advancements have helped improve success rates and have made blood and marrow transplants a more viable and promising option for a growing number of patients.
We Collaborate on Clinical Trials Findings
Nebraska Medicine is also part of the National Institutes of Health/National Cancer Institute Blood and Marrow Transplant Clinical Trials Network – a consortium of approximately 20 transplant centers across the country that collaborate on clinical trials in order to derive data from a larger population of patients and to allow for greater sharing of information between centers. Through this network, doctors can study and refine their techniques to diagnose, treat and follow patients, providing them with the most optimal care. Patients benefit from having access to the newest procedures, medicines and technology through our leukemia clinical trials at our partner the University of Nebraska Medical Center (UNMC).
Our Experience Means Better Outcomes for You
Nebraska Medicine's blood and marrow transplant program, which was established in 1983, has been ranked as one of the busiest adult and pediatric stem cell transplant programs in the world. This experience and large patient population allows our doctors to be constantly learning and improving the transplant process. As a result, many of our patients live long, healthy lives for many years after their transplant.
Addressing Your Personal Care Needs
Addressing a patient's physical, educational, emotional and spiritual needs are important aspects of providing a more complete and holistic approach to care. A host of amenities and supportive services are available to help meet these needs. This includes personal care services such as wigs, wig fittings, prosthetic and bra fittings, yoga, massage therapy, skin care and make-up lessons specifically geared for people with or recovering from cancer are also provided in a private setting.
Cancer Support Services
Finding out that you have cancer can be a very emotional and difficult time. You will likely have many questions and issues to work through. We will be with you every step of the way. Nebraska Medicine offers a host of cancer support services to help you with your physical, emotional, educational and financial needs.
We're Here for you Long After Your Treatment
Our adult Survivorship Clinic is designed to help you deal with the emotional and physical challenges cancer can leave behind such as fear of recurrence, physical and medical long-term side effects and helping you return to a normal life again. It will also help you transition back into the care of your primary care physician.
Accreditations and Awards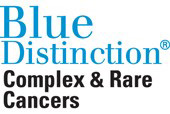 Blue Cross Blue Shield of Nebraska Blue Distinction Center+
Blue Distinction Centers and Blue Distinction Centers+ have a proven history of delivering exceptional care and results. Nebraska Medicine has received Blue Distinction in acute leukemia - inpatient non-surgical care.
---

Foundation for the Accreditation of Cellular Therapy (FACT)
FACT Accreditation demonstrates our commitment to quality in cellular therapy and blood and marrow transplantation and verifies that our transplant program has met rigorous international standards.
---

The American Society of Clinical Oncology Quality Oncology Practice Initiative
Nebraska Medicine has been recognized by the Quality Oncology Practice Initiative (QOPI®) Certification Program, an affiliate of the American Society of Clinical Oncology. The QOPI® Certification Program (QCP™) certifies oncology practices that meet nationally recognized standards for cancer care. This certification reaffirms our commitment to providing patients with high quality cancer care. 
Related Links: