Nebraska Medicine has one of the largest teams of orthopaedic surgeons who are at the forefront of orthopaedic surgery, research and rehabilitation. Our surgeons work closely in collaboration with other physicians to provide a well thought out and comprehensive treatment plan for upper extremity, lower extremity, sports medicine, orthopaedic oncology, spine, trauma and reconstructive patients in children, teenagers and adults.
Service Options
Why Choose Nebraska Medicine for Orthopaedic Care?
Our Expertise
When you need advanced orthopaedic treatment, Nebraska Medicine and our academic partner, the University of Nebraska Medical Center's Department of Orthopaedic Surgery and Rehabilitation, has the experience and expertise you are looking for to get the best possible care.
We Treat More Than 35,000 Patients A Year
Our team is made up of experienced surgeons, specialists, scientists, biomechanical engineers, nurses, therapists and support personnel who provide top-quality care to more than 35,000 patients each year from around the country.
Our Wealth of Experience Gives You Better Results
Our expert surgeons perform thousands of surgeries each year and place strong emphasis on decreasing a patient's risk of infection during and after surgery through a variety of methods all centered around giving you the best surgical outcome possible. Studies have shown that the greater the volume of surgeries performed at a hospital, the better the outcomes. Our physicians are also very experienced at choosing the appropriate candidates for surgery. Choosing the right surgery for the right patient with the right implant and right physical therapy contributes to better results, happier patients and greater longevity.
Our Edge in Technology and Research
Many providers on our orthopaedic surgery team are involved in groundbreaking technological and clinical research that is transforming the future of orthopaedic surgery. UNMC's orthopaedic research laboratory is one of the largest academic facilities in the world conducting technological research to aid the orthopaedic industry. Through the collaborative work of our engineers, surgeons and technologists at our world-class Biomechanics laboratory, we are performing cutting-edge research to create "smart" implants that last longer and perform better, as well as innovative work on wear testing of joints that is helping to set national and international standards for testing of knee replacement systems. View the UNMC Department of Orthopaedic Surgery and Rehabilitation bi-annual report for more information.
Our Dedication to Research and Clinical Trials
Our orthopaedic surgeons are leaders in research and are pioneers in ushering in the latest orthopaedic treatments and procedures to best address patient needs. This means you have the opportunity to take part in some of the most current clinical trials and the newest and most cutting-edge treatment options.
Our Trauma Expertise
As a Comprehensive Trauma Center, Nebraska Medicine provides the highest level of care for patients of all ages with complex traumatic injury.
Accreditations and Awards
Highly Ranked Care
We're rated among the nation's best.
The Nebraska Medical Center has been rated nationally for Orthopaedics in the 2012 U.S. News & World Report Best Hospitals ranking, and as a best regional hospital in Eastern Nebraska. In addition our Nebraska Medical Center hospital has been rated:
A high-performing hospital for Orthopaedics in the 2011, 2013, 2014 and 2018 U.S. News & World Report Best Hospitals ranking
The top hospital in Nebraska in 2018-2019 by U.S. News & World Report Best Hospitals ranking
A High Performing Hospital in 2019 for hip replacement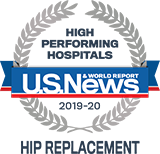 Blue Cross Blue Shield of Nebraska Blue Distinction Center+
Blue Distinction Centers and Blue Distinction Centers+ have a proven history of delivering exceptional care and results. Nebraska Medicine has received Blue Distinction in knee and hip replacement and Blue Distinction Center+ for spine surgery patient care.