If trying to lose weight seems like a never-ending struggle and you could use some help from medical experts, we are ready to join your team.
Are you ready for a change?
The Nebraska Medicine bariatrics team is here to help you overcome your weight-loss challenges through nonsurgical weight-loss programs and bariatric surgery. Call us at 402.559.9500 to get started.
We offer:
Nonsurgical weight-loss programs
Interested in using diet, exercise and medication to achieve a healthy weight, resolve other health issues or prepare for bariatric surgery? We'll work with you to create a customized weight-loss program, which always includes lifestyle changes and may also include meal replacement, medicine, diet, exercise and counseling.
Surgical weight-loss procedures
We offer several options for patients who qualify for weight-loss surgery. While gastric bypass and sleeve gastrectomy are two of the most common, we will work with you to determine which procedure will most likely give you the best results.
Ongoing support
We know that a successful transition to lifelong healthy living requires more than simply losing the weight. Our team includes medical nutritionists, an exercise specialist and a clinical psychologist to support your medical, physical and mental health throughout this process.
We also offer classes and consultations on a variety of topics, including: healthy eating, portion identification, healthy coping, physical activity planning and the psychology of eating and weight loss. Please refer to this flyer to learn more about our support group for postsurgical patients.
Find a Bariatrics (Weight Loss) Specialist
Search
Beginning the weight-loss process

Schedule your consultation to learn more about the Bariatrics Center, and the options we offer to help you reach your weight-loss goals.

View More

Who is a candidate for bariatric surgery?

Check here for guidelines that will help determine if you are a good candidate for weight-loss surgery at the Bariatrics Center.

View More

About Bariatrics Center

Meet our weight loss team at Nebraska Medicine.

View More
The Bariatrics Center at Nebraska Medicine is the most comprehensive weight management program in the region, offering both surgical and medical weight-loss treatment options for obesity. It was also recently re-accredited by the Metabolic and Bariatric Surgery Accreditation and Quality Improvement Program.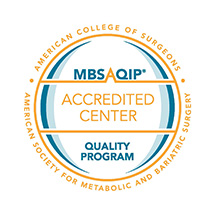 We are proud to be recognized by Blue Cross and Blue Shield of Nebraska as a Blue Distinction Center+ through the Blue Distinction® Specialty Care program.