I'm Corrigan McBride, MD and I am a bariatric surgeon at The Nebraska Medical Center. My story isn't too different from my patients. About 10 years ago, I was about 75 pounds overweight. I had knee problems. I had started seeing an orthopaedic surgeon who gave me two options—either lose weight or have knee surgery.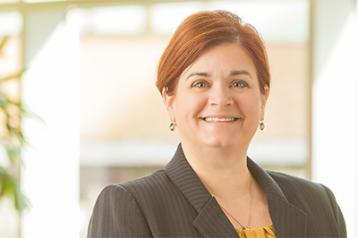 Honestly, if I was my own patient, I would have told myself to lose the weight. My cholesterol and my blood sugar were both going up. I was on the path to heart disease, diabetes.
I wanted to get to a much healthier place. I wanted to have a family. I needed to lose the weight.
So I had lap band surgery in 2004—and it was a very good tool for me. I lost about 40 pounds, and that was enough to see the health improvements I wanted.
My knees didn't bother me; my cholesterol and blood sugar improved.
And because I had lap band vs. another surgery, I could get pregnant within the next year if I wanted to. With the other surgeries, you have to wait a bit longer—which I didn't want to do.
Fast-forward a few years: I got married, and gave birth to a beautiful baby girl. Everything was great. But then the band slipped—which is relatively rare, but it does happen. There were a couple of options to re-do the surgery. I decided to have the gastric sleeve–a surgery in which 80 percent of your stomach is removed.  And it's worked wonderfully—as I've lost a significant amount of weight. I'm still losing!
Here's my point…
I can tell you from personal experience—bariatric surgery is a great weight-loss tool. But there's nothing magic about these surgeries. Yes, problems can be corrected. But when it comes to weight loss, you still have to count calories. You still have to burn calories. You still have to exercise.
The surgeries perform one important function—they let you take in fewer calories. Your hunger is satisfied with less food. Fabulous! Each surgery limits intake in a different way. But it does happen.
But—as I said–you still need to count calories. There's no getting around it. You can't keep eating the way you used to. You've got to eat lots of lean protein, lots of vegetables, a few fruits. And you've got to exercise if you want to keep losing weight.
Luckily, today we've got smartphone apps that can help keep us on track. More about that later. Believe me, if I can do this—lose the weight—so can you. I'm so happy I had bariatric surgery. I'd do it again in a heartbeat.