A stroke occurs when blood can't get to part of your brain. When it comes to stroke, seconds matter. Approximately 2 million brain cells die every minute during a stroke. Recognizing the signs of a stroke and getting medical attention F.A.S.T. (Face drooping, Arm weakness, Speech difficulty, Time to call 911) can save your life or that of a loved one.
The Nebraska Medicine Stroke and Neurovascular Center provides 24/7 care to stroke patients. It is the only Comprehensive Stroke Center in the region.
What to expect
If you or a loved one come to Nebraska Medicine after having a stroke, you can expect to have the stroke team waiting for you at the door.
There will be a quick assessment, and then we will rush you or your loved one to a CT scan to determine if treatment is possible. After the scan, you'll return to the emergency department for a full examination and further treatment. Once stabilized, you or your loved one are admitted to an inpatient stroke unit for further treatment. The average stay for a stroke patient is five days.
Why you should choose Nebraska Medicine for stroke care
Nebraska Medical Center is the only hospital in the region with neurovascular surgeons performing the newest and most advanced procedures for the most severe forms of stroke 24 hours a day, seven days a week. View our impressive statistics.
Because we are the region's only 24/7 stroke team, we work very closely with the Omaha Fire Department and local emergency medical services (EMS) teams. Our nurses receive extensive stroke training and education, and we never go on diversion for stroke patients. (Diversion means a hospital is too busy to accept new patients.)
The most common type of stroke is an ischemic stroke. This stroke is caused by a blockage in a blood vessel that stops oxygen flow to the surrounding brain tissue, causing cell death. To stop this process from happening, we can give a drug called tissue plasminogen activator, or tPA. This medicine is the only one of its kind to be approved by the Food and Drug Administration for treating an acute ischemic stroke.
We provide our patients access to new medications and clinical trials. This means we are often among the first to learn about new drugs and clinical trials designed to help combat stroke or to help stroke patients recover.
We offer excellent rehabilitation services to help you recover from a stroke. Stroke is the leading cause of disability in the U.S. Implementing stroke rehabilitation services immediately after your stroke is crucial to your recovery. The goal of your personalized rehabilitation program will be to help you achieve the highest level of independence and quality of life possible.
Find a Stroke Specialist
Search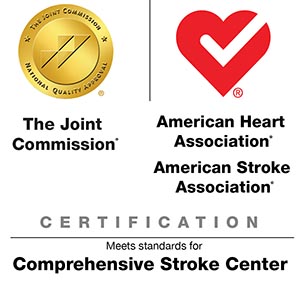 The Joint Commission, in collaboration with the American Heart Association and American Stroke Associations Brain Attack Coalition, certifies Nebraska Medical Center as a Comprehensive Stroke Center. This is the highest level of stroke certification available.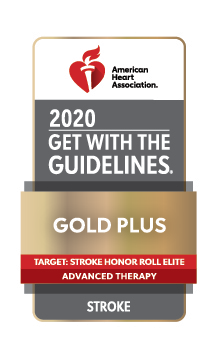 The American Heart Association and American Stroke Association have recognized:
Nebraska Medical Center and Bellevue Medical Center with the Get With The Guidelines® Gold Plus Achievement Award
Nebraska Medical Center with Target: Stroke Honor Roll Elite Plus recognition
Bellevue Medical Center with Target: Stroke Honor Roll recognition