The effects of heart failure, when the heart is unable to pump enough blood to keep up with your body, can be dramatic. As your heart grows weaker, shortness of breath, chronic fatigue and swelling in the ankles, feet and legs also become more severe. Even getting dressed can leave you tired and exhausted.
The Nebraska Medicine Heart Failure Program treats hundreds of patients each year and cares for some of the sickest heart failure patients in the area. While heart failure has no cure, our advanced heart failure specialists can offer personalized treatments, from medicines and lifestyle changes to the most advanced therapeutic devices, to help you live a longer and more active life. Nebraska Medicine boasts is a regional leader in advanced heart failure care, and is the only hospital in the region to offer heart transplants.
Why Nebraska Medicine for Heart Failure Treatment?
Be Evaluated By the Field's Leading Experts
Nebraska Medicine's three board-certified heart failure specialists have years of training and experience. They are backed by a team of cardiac and transplant surgeons as well as advanced practice providers and advanced heart failure case management nurse coordinators with cardiac transplantation certification and critical care expertise to ensure that you receive the best care possible.
Our Academic Medical Partner: University of Nebraska Medical Center
We're not only treating patients, we're also conducting the studies for the next generation of drugs and procedures related to keeping your heart healthy.
Our Extensive Team Helps You Through Every Aspect
A team of experts meet weekly to review each patient's case and determine the best advanced heart failure therapy, including cardiac rehabilitation, cardiac imaging experts, social work coordinators, psychologists, financial service representatives, pharmacists and dietitians. Our dedicated heart failure educators are also available to inpatients as well as outpatients to answer any questions, follow your progress and assist with self care.
We Offer a Multitude of Leading Therapies
Our heart failure experts will follow you closely and develop a customized treatment plan that may include advanced medical therapies, ventricular assist devices, artificial hearts or a heart transplant. The goal is to reverse cardiac damage, improve survival, minimize symptoms and, ultimately, enhance your quality of life through heart failure education, exercise, healthy lifestyle counseling and diet education. In many cases, our heart failure team may be able to preserve the function of your heart with the goal of extending your life, and for some, help you live long enough to make you eligible for a heart transplant.
Services for Advanced Heart Failure May Include:
CardioMEMSTM Heart Failure (HF) Remote Monitoring System
Genetic Testing and Counseling
Accreditations and Awards
U.S. News & World Report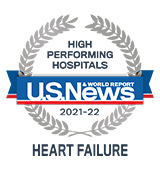 Integrated joint Commission
Integrated Joint Commission Certified Heart Failure Program - 2007 to Present