Imagine if it was your dad. Your mom. Your sister or brother, son or daughter stepping off a curb oblivious to the bus coming from behind.
Of course, you'd snatch them out of the way, even if the person was a total stranger.  
Yet, thousands of people die each year waiting for someone to donate a kidney or section of liver.
In the United States, most people are familiar with being on the donor registry. It means when you die, some of your organs can go on to help someone else. While an excellent option we strongly support, too many people die or get too old or sick to receive a transplant, because there are too few organs.
That's why we need more people to come forward and donate your spare kidney or a portion of your liver. In Nebraska alone, we have more the 200 people waiting for a kidney donor, and more than 100 waiting for a liver. You can visit this website to get a daily total. Once you've clicked on the link, choose your state, "Waiting List" then "Overall by Organ."
Lots of people mistakenly think you need to be a close relative of the person needing a kidney or liver to be a donor. But that's not at all the case. And for many people, they don't have a close relative who is a match for them. So unless someone like you comes forward in time, no other options exist.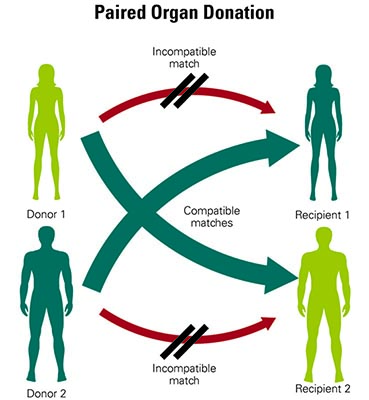 Nebraska Medicine also specializes in creating big kidney chains, which helps maximize the number of kidney transplants done. We do more kidney chains than almost any other hospital in the country.
We've also created a page full of questions people considering donating a kidney or portion of a liver frequently ask. It covers some of the general questions that tend to come up when people first broach this notion. Feel free to call us at any time to speak about this topic further. No question is dumb, or too basic, call 800.401.4444.
If you're ready to start the living donor process, we offer online forms for both
To Donate a Kidney:


To Donate a Liver:


Other ways you can help:
We totally understand if you're just not the kind of person who could ever, willingly undergo a surgery you didn't personally need to survive. We get that. But that doesn't mean there aren't other ways to help. Please do as many of the following as you feel comfortable with:
Step 1. If you haven't done it when getting your driver's license, register as a donor now at Live On Nebraska, so in the event, you do die, you will be donating your organs. Also, urge your friends and family to register.
Step 2. If you know someone who is currently seeking a donor (whether at Nebraska Medical Center or elsewhere) our social media marketing team has developed a free Find a Donor guide to help them get the word out about needing a donor. It includes prepared statements that could be used on social media, in emails or in person. This will hopefully help with the most difficult aspects of finding a donor – which is bringing up the conversation and knowing what to say. Grab that guide here, or share the guide with someone who could benefit from it.
Step 3. Please share stories of our former patients who have had transplants. Scroll down to the bottom of this page and watch one or two. Like when we performed a liver transplant to save the life of this little girl, or the kidney transplant chain which started with an altruistic donor.
Step 4. Sign up for our Living Donor update newsletter. Once or twice a year we'll email out the latest educational information we have on living donation and news about the waiting lists in Nebraska. Even if you never plan to personally donate while alive, we'd encourage you to sign up and forward relevant emails to friends and family, or social media. You never know who might decide to become a living donor.
Related Links: