Patients come to Nebraska Medicine from all over the world for lymphoma care. Our dedicated lymphoma team is a regional leader in breakthrough cellular therapies. That means personalized cancer treatment tailored for you.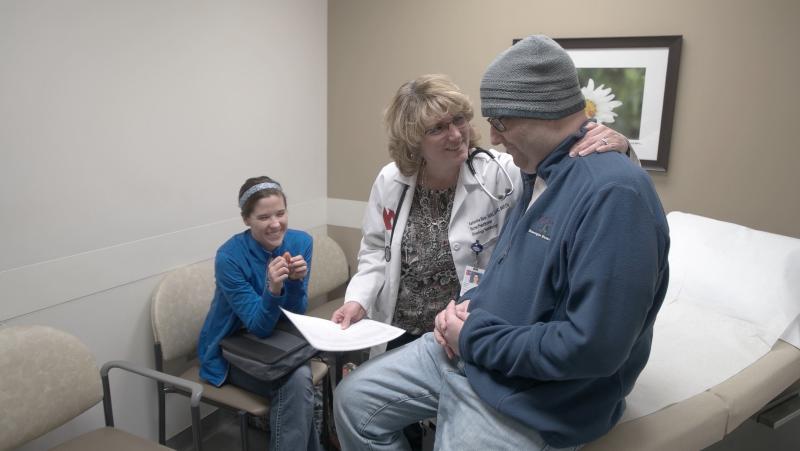 Hodgkin Lymphoma
Hodgkin lymphoma (HL) impacts on average 9,000 people each year, and is most commonly primarily those in their mid to late 20s or elderly. About half the cases are related to Epstein-Barr virus (EBV). Family history may play a role along with patients who have HIV/AIDS. There are two main types; classical and nodular lymphocyte-predominant.The majority of people have the classical subtype which is categorized into four additional subtypes.
Classical Hodgkin Lymphoma (CHL)
Classical Hodgkin lymphoma accounts for about 95% of Hodgkin lymphoma patients. The four subtypes are:
Nodular Sclerosis Hodgkin Lymphoma
Mixed Cellularity Hodgkin Lymphoma
Lymphocyte-Depleted Hodgkin Lymphoma
Lymphocyte-Rich Classic Hodgkin Lymphoma
Nodular Lymphocyte-Predominate Hodgkin Lymphoma (NLPHL)
This subtype of Hodgkin Lymphoma is rare, about 5% of the patient population.
World Class Treatment and Care
The Fred & Pamela Buffett Cancer Center consists of a 10-story, 98-laboratory research tower named the Suzanne and Walter Scott Cancer Research Tower; an eight-story, 108-bed inpatient treatment center named the C.L. Werner Cancer Hospital; and a multidisciplinary outpatient center. With a comprehensive team of more than 200 cancer experts covering all specialties across the cancer spectrum, there is no need for people to travel outside the region for cancer care.
Our world renowned lymphoma team works with you to choose the best possible care plan tailored to meet your needs. The choice of treatment often depends on how advanced the cancer is and whether or not it has favorable features. Treatments may include:
Clinical Trials
Monoclonal Antibodies
Targeted Therapies - these are drugs designed to target specific genes or proteins in types of cancer cells that spread the cancer.
A Team Approach
With the many different types of lymphoma, it is imperative that your cancer be properly identified so doctors can formulate the best treatment plan for you. To precisely diagnose and treat your cancer, our hematopathologists - who are sought after nationally for their expertise - will carefully determine your specific type of lymphoma along with your team of specialists that may include medical oncologists, radiation oncologists, surgical oncologists, advanced practice providers, nursing and more. This team meets regularly to discuss your case and develop a coordinated personalized plan of care.
Care When You Need It Most
Patients undergoing cancer treatment at Nebraska Medicine also have access to our 24/7 Infusion Center at the Fred & Pamela Buffett Cancer Center, which serves as both a treatment center and 24/7 urgent-care-type facility. A rare offering in the region.
Clinical Trials
Access to clinical trials affords patients the ability to participate in leading edge treatments that otherwise would not be available to them. New approaches for Hodgkin lymphoma are being study through clinical trials at Nebraska Medicine for newly diagnosed patients and patients with relapsed or refractory disease that hold the promise of increasing the rate of remission and finding a cure for all HL patients. The proportion of patients with HL, who enter into remission and stay in remission for years, has increased over the last three decades. See what clinical trials related to Hodgkin lymphomas are going on right now. Talk to your care team to see if there are clinical trials you may qualify for.
Nebraska Medicine is also part of the National Institutes of Health/National Cancer Institute Bone Marrow Transplant Clinical Trials Network – a consortium transplant centers across the country that collaborate on clinical trials to derive data from a larger population of patients and to allow for greater sharing of information between centers. Through this network, doctors can study and refine their techniques to diagnose, treat and follow patients to provide them with optimal care.
Accreditations and Awards

The American Society of Clinical Oncology Quality Oncology Practice Initiative
Nebraska Medicine has been recognized by the Quality Oncology Practice Initiative (QOPI®) Certification Program, an affiliate of the American Society of Clinical Oncology. The QOPI® Certification Program (QCP™) certifies oncology practices that meet nationally recognized standards for cancer care. This certification reaffirms our commitment to providing patients with high quality cancer care. Learn more about our certification.
---

Blue Cross Blue Shield of Nebraska Blue Distinction Center+
Blue Distinction Centers and Blue Distinction Centers+ have a proven history of delivering exceptional care and results. Nebraska Medicine has received Blue Distinction in adult and pediatric bone marrow/stem cell patient care.
---

Foundation for the Accreditation of Cellular Therapy (FACT)
FACT Accreditation demonstrates our commitment to quality in cellular therapy and blood and marrow transplantation and verifies that our transplant program has met rigorous international standards.