Seven years ago, Diane James was driving down I-80 with her son-in-law when she felt her heart flutter. Then it jumped. She knew something wasn't quite right and told him, "Please take me to the hospital right away."
In the Nebraska Medical Center Emergency Room, doctors performed some tests and found her heart was skipping beats. They sent her home with a heart monitor and later found that her heart was stopping while she slept. That's when James learned she had cardiomyopathy, a condition that also affected her great-grandmother, her aunt and her mother.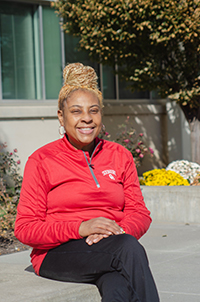 Special clinic to optimize LVAD
Cardiomyopathy usually leads to heart failure. To help her heart, James received a left ventricular assist device (LVAD) at Nebraska Medical Center in June 2016. An LVAD is a mechanical pump that can help with heart recovery – and can serve as a bridge to heart transplant.
"The LVAD optimizes pressures inside the heart, so sometimes the heart can return to its normal function," says cardiologist Adam Burdorf, DO. "We put patients on the highest dose of heart medication to increase their chances of heart recovery."
The hope was to get her own heart working well again, rather than opt for a heart transplant. Heart transplant surgeries are risky, and there's a persistent shortage of available organs.
"We have a relatively new understanding of heart failure and recovery," says heart surgeon John Um, MD. "Some patients' hearts fail and the heart never recovers. Some patients' hearts recover after we place an LVAD and start an aggressive heart medication regimen."
James went to the Nebraska Medicine Heart Failure Optimize Clinic for the purpose of maximizing her heart recovery. After James had partial recovery of her left ventricle, the team took her off the LVAD to see if her heart might recover.
For a while, James did OK. Then she started feeling worse. After her heart began to fail again, Dr. Um and Dr. Burdorf knew a heart transplant was the best next step. For that to succeed, James would need a lower body mass index (BMI).
Getting ready for transplant
A successful heart transplant depends on many things, including a low BMI, so the new heart stays healthy.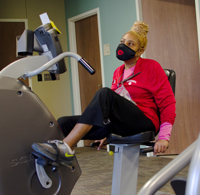 Nebraska Medicine recently participated in the most comprehensive study yet on heart recovery. The study showed that our program got the most bariatric patients successfully prepared for heart transplantation nationwide.
James went through bariatric sleeve bypass surgery to get ready for her heart transplant. Bariatric surgeon Corrigan McBride, MD, explains, "Once we get them into the bariatric program, we're very successful at getting them to their sleeve gastrectomy and then down to a BMI where they can be listed for heart transplant. Then, we have a highly successful cardiac transplant program to get patients their heart transplant."
"Multidisciplinary care is important because individuals are very complicated. Your health can fail for a lot of reasons." says Dr. Um. "I'm blessed to work with talented colleagues across many areas of expertise."
James' fighting spirit
Finally, James got the call from Nebraska Medicine in July 2020 that a new heart was waiting for her. James knew she was in good hands. "It was clear how much Nebraska Medicine doctors cared about me," she says. "They made sure I was comfortable and well taken care of. They took recovery – and can serve as a bridge to heart transplant. the time to help me understand everything." 
Now James has a new heart and a new life, thanks to Dr. Um, Dr. Burdorf, Dr. McBride and the rest of her care team. "Diane's positive attitude and her tenacity make her unique. After a multiyear battle with heart failure, she still has that fighting spirit," says Dr. Burdorf.
"Diane has been a real trooper," Dr. Um adds.
Her latest echocardiogram showed heart function is now normal, which has made all the difference. "When I take a shower or go for a walk, I'm able to actually breathe and not have to stop and catch my breath. I'm in a totally different world now," says James.
If you're searching for a cardiologist, give us a call at 800.922.0000.