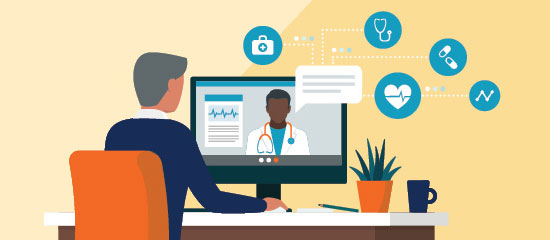 Using technology to stay on top of your health is a great way to receive care. While the current pandemic has certainly expanded the use of telehealth, high patient satisfaction with these visits guarantees this technology is here to stay. If you are new to video visits, the tips below will set you up for success so you can make the most of your appointment.
Hesitant to try telehealth? Read our frequently asked questions to ease your mind.  
Test technology in advance. You will need a smartphone, tablet or PC for a video visit and steady connection to the internet to stream video. Test out both hardware and software in advance by following our easy steps.
Pretend you're in-person. When you go to the doctor in person, the nurse or medical assistant will gather your vital signs in advance. Try to recreate this at home as much as you can by weighing yourself beforehand, taking your temperature and checking your blood pressure if able. Make sure to have your prescriptions handy so you can review your medications with your provider. 
Sssh your space. Being able to have a clear conversation with your provider about your health is important. Select a place in your home that is private and away from distractions, so you and your provider can consult as you would in an exam room. 
Get a room with a view. Along with testing your hardware and software, make sure your setting is ideal for video. Choose a well-lit room and avoid sitting with your back to a window as that can darken your image. Make sure the web camera is at eye level so your provider can see you clearly.
Ask questions. Don't be shy in front of the camera, this is your time with your provider. Ask questions and repeat what you hear to be sure you understand next steps.