Every day I see patients who know they should change their lifestyles. These people have heard from me that they are at risk for heart attack – but they resist making changes. They like certain foods; that's it! They don't like to exercise!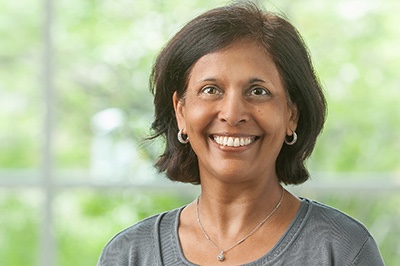 They might change things a little, and that's a start.
But often their weight doesn't go down, their cholesterol remains too high – and blood pressure is much too high. It's imperative that people realize that heart disease is serious. There's no getting around it. It kills people.
Heart disease is the leading cause of death in both men and women.
For every four people in the U.S., one will likely die of heart disease.
One in three women die of heart disease.
Sad, but true! If you or someone you care about avoids making changes to prevent heart disease, maybe these facts will help you (or them) find the motivation needed for change.
Yes, we've made some progress in preventing heart disease deaths. Since the 1980s, the numbers have declined. But still, it's not enough. We've gone from 750,000 deaths per year to 610,000 deaths. Those are still huge numbers.
We've seen a slight decrease in total cholesterol over the last 20 years, yet we've seen no real improvement in people with high blood pressure..
Even more alarming is the obesity rate in the U.S. – we've seen it increase significantly in the last 50 years. The rise in young children has been especially disturbing, as nearly 17 percent (or 12.7 million) children and adolescents ages 2 to 19 years are obese.
Between ages 20 and 74, 35 percent are obese. In the 1960s, just 10 to 15 percent of this population was obese.
A few more statistics:
In the U.S.:
700,000 patients have a heart attack each year, of which 75 percent are first heart attacks.
The cost of coronary heart disease is $110 billion per year.
In Nebraska:
1 in 5 deaths each year is from heart disease
It is the leading cause of death in Nebraskans age 55+
1/4 of Nebraskans have high blood pressure
1/6 are smokers
2/3 are overweight or obese
2/3 have two risk factors for cardiovascular disease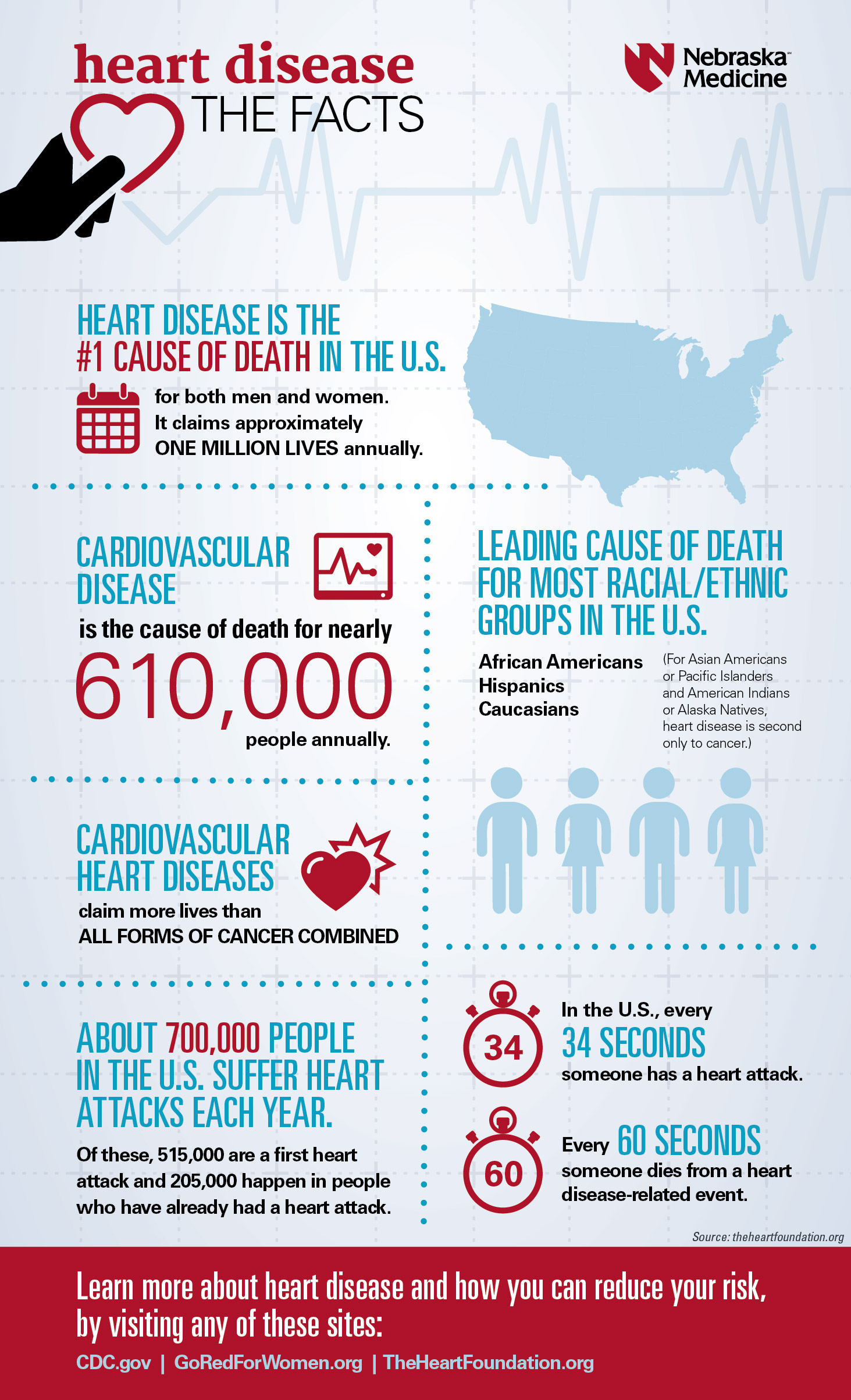 Yearly screening is essential
To prevent heart disease, it's critical that people get their blood pressure, cholesterol and blood glucose level checked regularly.
Blood pressure
If blood pressure is normal, get checked every 2 years. Begin at age 20.
Fasting lipid profile    
If you have a normal profile, get checked every 4 to 6 years. More often if you are at high risk. Start at age 20.
Weight / BMI  
Get checked annually, starting at age 20.
Blood glucose
Get checked at least every 3 years, if not at high risk for diabetes, starting at age 45.
Cardiovascular Risk Score      
Get checked at least every 4 to 6 years, starting at age 45, if you are at high risk for heart disease. A cardiovascular risk assessment will give you a number — your 10-year risk of having a heart attack. There is power in numbers! Hopefully that will inspire you to change your lifestyle.
Lifestyle modification is critical
You want to be around to enjoy family and friends in your old age, don't you? You want to see your kids and grandkids grow up, don't you? Think about what gets you excited, your reason for living, and focus on that. Use that as your inspiration to make lifestyle changes!
Every day, take steps to address the risks:
Smoking: Quit! There are plenty of smoking cessation programs and treatments. No excuses!
Overweight and obesity: Quit eating chips, French fries, cookies, candy and other high-fat, high-sugar, high-calorie junk foods. That's a great start!
Poor diet: Kick the junk food. Start eating fruits, vegetables and lean protein. Learn how to cook, so you can control the food you eat.
Physical inactivity: Start walking a little every day. Around the block, then a few more blocks.
Excessive alcohol: Limit yourself!
What are some specific things you can do?
Sodium: Cut intake in diet (Count the numbers!)
Sodium intake < 2400 mg day to improve blood pressure
Further decrease to 1500 mg provides greater benefit
Alcohol: No more than 2 drinks per day for men and 1 drink per day for women
Aerobic exercise: 2.5 hours a week moderate intensity, or 75 minutes per week high intensity exercise. Get 30 to 45 minutes exercise three to four days per week.
Diet:
Saturated fats: < 10 percent of calories per day from saturated fats
Sugar: < 10 percent of calories per day from added sugar
Fat: 20 to 30 percent of total calories from fat
Whole grains: 50 percent of total carbohydrate intake
Vegetables and fruits: Eat a variety
Proteins: Eat a variety (lean meats, poultry, seafood, legumes, nuts, seeds and soy products
Low-fat dairy/soy beverages
Polyunsaturated fats and monounsaturated fats: extra-virgin olive oil is best
Please, take this message seriously. If you want to live a good, long life, you've got to get invested in improving your heart health. Your life depends on it!
Is it time to speak with a cardiologist about your heart disease risks?
To make an appointment with Dr. Kiran Gangahar, please call 800.922.0000.