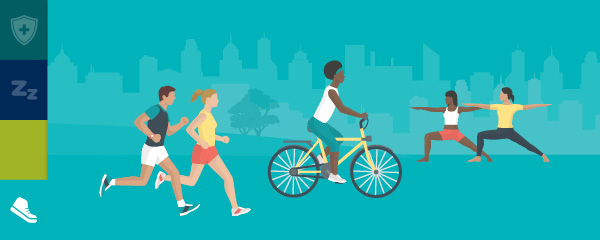 As COVID-19 continues, exercising safely can feel overwhelming. Feeling unmotivated or not knowing socially distant options might be preventing a more active lifestyle. But regular activity helps your body fight disease, along with a bunch of other benefits to your emotional and mental health.
According to the British Journal of Sports Medicine, regular physical activity reduces your risk of catching a viral infection. That's because exercise enhances an immune system's ability to regulate itself. Since COVID-19 is a viral infection, regular exercise can actually help your body fight the coronavirus.
Regular activity:
Supports your immune system to fight COVID-19
Regulates stress hormones to minimize stress
Helps you sleep better
Decreases anxiety and depression
Encourages weight loss
Boosts feelings of confidence and self-esteem
Strengthens your brain
You don't have to run a marathon or swim laps every day to improve your health. A simple walk can do it. "Walking has a lot of great health benefits. Even a brisk walk increases your heart rate," says Mike Wellsandt, PT, DPT, OCS. "Any steps are better than no steps."
The following socially distant activities all support your immune system. 
How to work out (without going to the gym)
Try joyful movement
If you're not a fitness buff, there's something everyone can enjoy, no matter your weight, age or fitness level. Joyful movement is any positive experience you choose that encourages awareness of the body and the possibilities of movement.
Joyful movement can include:
Dancing in your kitchen while cooking dinner
Walking the dog
Doing cheesy 80s aerobics
Climbing a tree
Working in your garden
Engaging in daily yoga
Anything that makes you feel good and strong within your body
This practice means moving your body in a way that feels good, rather than a punishment to be suffered through. Forget the myth of "no pain, no gain" and find an activity that warms your heart and mind as much as it does your body.
For more ideas and tips, see this article on how to exercise at home. 
Exercise is the third and final "pillar of health" that helps improve your overall health. These three pillars work together to support your immune system:
Exercise improves your mental, emotional and physical health