Pre-Op Program
Pediatrics Preparation & Pre-Surgical Visit
Research has shown that children who have been prepared cope better before, during and after a procedure or surgery. Fear of the unknown can be one of their greatest fears. Preparation will help your child be less fearful, reduce their anxiety and help you better answer their questions.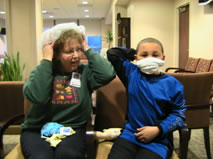 The pre-surgical visit for you and your child will be one-on-one with a Certified Child Life Specialist. The program is designed to introduce your child to the hospital environment in a safe, non-threatening manner. Through this process you and your child will learn what to expect on the day of the procedure/surgery. Explanations will be given in terms your child will understand, with the use of a picture preparation book and medical equipment/items they may come in contact with the day of the procedure/surgery. A tour will also be given to the pre-operation and recovery area.
This program is funded by the Nebraska Medicine Guild and offered free of charge.
For more information and to schedule a visit, please contact the Child Life Department at 402-559-6775 or by emailing dbarrier@nebraskamed.com.