Meet Our Certified Child and Family Development Specialists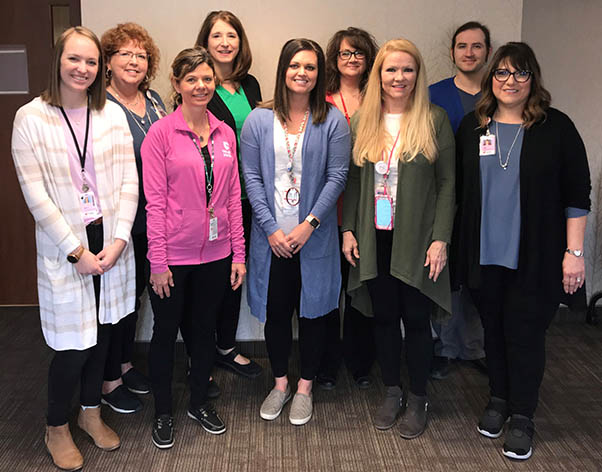 Debbie Barrier, MS, CCLS - I have been in Child Life for 36 years with 12 of them being here at Nebraska Medicine. I looked into radiology, early childhood education and nursing, but after my aunt did a pediatric nursing clinical rotation and told me about child life, I knew that was it and have been fortunate ever since. Even though I am not that old, I have even supervised 3 of my 4 child life co-workers in a practicum/internship position. And, I am an Iowa State and Oklahoma Sooner fan!!
Kaylee Kjolhede, BS, CCLS - I have been working as a Child Life Specialist since April of 2016. As a student, I completed my child life practicum and internship at Nebraska Medicine. I was so excited when given the opportunity to start my career here. Throughout college my most important goal was to find a job that I was very passionate about and finding child life did exactly that. Supporting families through some of their most stressful situations always leaves me amazed at how resilient the entire family can be with the right tools and preparation. Outside of work I enjoy being back home in small town Nebraska, fishing, concerts, and of course, cheering on the Nebraska Huskers! GBR!
Lisa Wallace-Spech, BA, CCLS - I started my Child Life Career at Nebraska Medicine 28 year ago.  I enjoy a part time position that allows me to be fully present to my patients at the hospital while balancing the demands of being a mom of four active kids.  I love working at Nebraska Medicine and having new challenges and opportunities to support children and families.   My favorite activities with children involve messy and science based play.  I chose a career working with children as it is so fun to see their excitement in experimenting, learning and mastering new skills.  Outside of work I am also an assistant Boy Scout leader.  
Christa Townsend, BS, CCLS - I have been a Child Life Specialist for 15 years. The first 5 at Children's Hospital in Omaha after graduating from University of Nebraska-Lincoln (...a long time ago), and the last 10 here at Nebraska Medicine. I love building relationships with our patients and families, helping them cope with the challenges of their hospitalization, and providing them with some positive support, smiles, and fun throughout their stay. When I am not at work, I enjoy spending time with my 2 daughters, walking my dog, Cooper, going to movies, and reading. Fun fact #1: I am a huge Nebraska Cornhusker football fan! GO BIG RED!! Fun fact #2: I hate winter and I love the beach…..that's why I live in Nebraska (LOL)!   
Debbie Wagers, MHA, CCLS - I have been a CCLS for 25 years and just celebrated 15 years at Nebraska Medicine! I always knew I wanted to work with children but really didn't want to be a school teacher. I was looking for something 'different.' I learned about child life in careers class at ISU and thought, "Gee, that sounds cool." It's been the perfect fit for me! A couple of fun facts, I have a one 2-legged son and one 4-legged daughter, my dog:) When you enter 318830 on a calculator and then turn it upside down, it spells my name.
Holly Vander Pol, BA, CCLS - I have been working as a Child Life Specialist since March of 2019. I am so excited to be starting my career as a child life specialist at Nebraska Medicine after graduating from Central College in May of 2018. Being a part of the Child Life team at Nebraska Medicine has been a great opportunity to learn and grow my skills. I love meeting new patients and families and building relationships with them to be a familiar and comforting face throughout their time here. When I'm not at work I enjoy spending time with my family and friends, being active outside, and trying my hand at Pinterest crafts! 
Teachers
Ardi Blazek, BS, M Ed., Early Learning Developmental Specialist - I have been with  NE Medicine since March of 2016.  Prior to joining the Child and Family  Development Team I was an Early Childhood Special Education Teacher for 33 years.  I choose to work with young children because they are always so excited about learning and I love their honesty.  I enjoy early childhood because of the massive growth that takes place during  a child's first 5 years.  I also appreciate  the opportunity to work with parents because  you are able to impact a child's whole life.  Outside of work I enjoy gardening and family time as well as my dog and lots of "granddogs".
Lisa Gulseth, BA, MS, Hospital Teacher - I have been the full time teacher at Nebraska Medicine for school age patients since 2010. School is such a regular and important part of the kids' lives. I love the challenges of teaching chronically ill children and helping them learn new things and move forward academically at their own pace. I especially like getting to know kids and finding out their learning style and interests. Teaching kids has changed so much over recent years. Being able to incorporate technology and fun into their learning is exciting. My goal is to help create academic stimulation and normalcy for our patients in our care at either their bedside or in the hospital classroom.  I enjoy spending time with my family, practicing yoga and gardening. Fun facts about me: I have experienced an earthquake and I have climbed the Pyramid of the Sun and the Pyramid of the Moon in Mexico.
Music Therapist
Caleb Hastings, MT-BC - I have been a board certified music therapist since 2017 and a Neurologic Music Therapist since 2014. I joined Nebraska Medicine in August of 2016. I work with children as they have limitless creativity and optimism, and they are very able to live in the present making them ideal collaborators in music therapy. Fun facts about me, I have lived in every US time zone in the last 5 years. I'm also a big fan of science fiction.
To connect with the Child Life Team at Nebraska Medicine call 402.559.6775.