Child Life Arts
Through a relationship with VSA Arts, the Nebraska Medicine Guild and the Junior League of Omaha, the Child Life Department brings art and the community into the everyday lives of hospitalized children and their families.
These experience include volunteer-lead "art nights" that bring professional artists together with the patients and families to explore art forms such as music, rhythm, ballet, sculptors, theater and visual arts.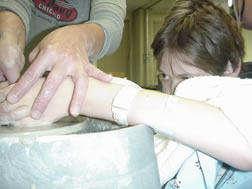 Caring for hospitalized children challenges each one of us to insure not only healing of their bodies but also their developing minds. Nebraska Medicine, "Art Experiences" program is child-focused, and a healing process of both body and spirit.
is inclusive of the whole family
allows expression of feelings
allows choices and mastery
reduces stress
promotes normal growth and development
brings the community to the family and allows for socialization
promotes normalcy