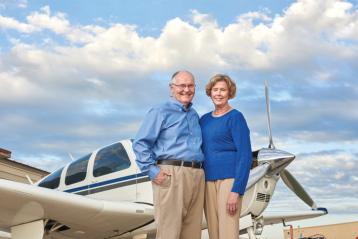 It was all so surreal. As Pam Arbuckle stood in her backyard, it was like she was watching a scene from a movie unfold before her. There in front of her was a man, motionless, sprawled in the grass next to a lawn mower. Within minutes, a team of paramedics had arrived on the scene. They immediately sprang into action and began assessing him and asking questions. But it was not a movie — it was real. The man was her husband and the questions were being directed to her.
Her husband, Jim Arbuckle had just suffered a stroke. There was no warning. One minute he was mowing the lawn and the next minute he was on the ground. When Pam heard the mower stop, she thought maybe Jim needed some water. So she filled a glass with ice and water and headed outdoors. That's when she saw Jim laying on the ground next to the mower.
She immediately called 911.
Not only had Jim suffered a stroke, but he had the most severe type, a proximal arterial occlusion ischemic stroke. With this type of stroke, a blood clot moves up the large vessels to the brain. It carries a high risk of mortality or severe disability, if the person survives, that is.
Jim was taken by ambulance to Nebraska Medicine – Bellevue. A CAT scan was taken of the brain, which revealed the clot. Doctors recommended that he be transported by ambulance to Nebraska Medicine – Nebraska Medical Center where he would be a candidate for a new surgery called mechanical thrombectomy. Mechanical thrombectomy was adopted by the American Heart Association and the American Stroke Association in June 2015 as the standard of care for acute stroke treatment guidelines. It is the first new stroke procedure approved by the Food and Drug Administration (FDA) in 20 years.
Mechanical thrombectomy is performed by threading a catheter through the femoral artery to the site of the clot. The stent is used to remove the clot, thus allowing the blood flow to be restored to the brain and preventing large areas from being at risk of dying.
"Study results show that without a doubt, this procedure is beneficial to ischemic stroke patients with a proximal arterial occlusion, meaning the clot is affecting the large vessels to the brain — the most severe form of stroke," says Marco Gonzalez, MD, neurologist at Nebraska Medicine who has been providing Jim's post-stroke care. "This is a life-changing procedure. It is significantly improving outcomes for these types of stroke patients by as much as 70 percent. The standard treatment of giving intravenous tissue plasminogen activator (tPA) to break down blood clots is only effective in about one-third of these patients because the clot is so big. The vast majority of these patients would go to rehab or nursing care with severe disabilities after their hospitalization. Now, many of these patients are going home. They are more independent, have less disability and improved quality of life."
Nebraska Medicine is the only health system in Nebraska and the surrounding area with three fellowship-trained endovascular neurosurgeons on staff: Daniel Surdell, MD; William Thorell, MD; and Andrew Gard, MD. Endovascular surgeons have specialized training in endovascular surgeries, which are innovative and less invasive procedures used to treat
problems affecting the blood vessels. All three have had specialized training in performing the mechanical thrombectomy procedure.
Dr. Surdell, who performed Jim's surgery, is a cerebrovascular and endovascular surgeon. After graduating from medical school at the University of Nebraska College of Medicine, Dr. Surdell completed eight additional years of intense training in surgery, neurosurgery, endovascular and cerebrovascular surgery. "Our experience allows us to perform the procedure better technically and to make better decisions," says Dr. Surdell.
Drs. Surdell, Thorell and Gard are backed by a team of health care providers who have a wealth of experience and stroke expertise. The team includes three vascular neurologists, a neuro hospitalist, stroke nurse and a neurointensivist. They comprise the only stroke team in the region that can provide 24/7 care for stroke patients using a well-defined, systematic approach to care and treatment to achieve optimal results. It has been established that patients who are treated within a few hours of an acute stroke using specialized treatments and medications by a dedicated and coordinated team of physicians and health providers experience the most positive outcomes.
Nebraska Medicine's Stroke Center has been certified by the Joint Commission since 2005 and was the first nationally certified stroke center in the state.
"We have a system in place that allows us to provide the most comprehensive care possible so that patients can go through the system rapidly, seamlessly and with the best outcomes," says Dr. Surdell. "It is the dedication, knowledge and expertise of each person on our team that makes this process the best it can be — from the nurses and doctors who assess the patient in the emergency department (ED) to the computerized tomography (CT) technicians and radiologists and our dedicated stroke team."
When a patient arrives in the ED who is suspected of having a stroke, the stroke team is notified and deployed. Each health care provider who comes in contact with the patient has a critical role to play.
"Our ED staff is attuned to getting people imaged with a CT scan immediately to determine the type of stroke occurring and whether there is a vessel blockage," says Dr. Surdell. "Our CT technicians and radiologist are standing by to get the scan completed quickly. If a stroke team neurologist is not at the hospital, he or she will remote in via telemedicine to make the decision as to whether the patient should be started on IV tPA or intra-arterial therapy (mechanical thrombectomy). If the patient is a candidate for surgery, the patient will be immediately transferred to surgery where our stroke team will be ready. After surgery, the patient is transferred to our intensive care unit where we work closely with a very experienced critical care team that includes a neurointensivist."
"Everyone has the same goal in mind — to treat the patient quickly and appropriately to reduce the amount of damage caused by the stroke," says Dr. Surdell.
"Time is critical when it comes to stroke," agrees Dr. Gonzalez. "The sooner you get treatment the better." People who arrive at the emergency room within three hours of their first symptoms tend to have less disability three months after a stroke than those who received delayed care, according to the Centers for Disease Control and Prevention.
Stroke is the third leading cause of death in this country. Nearly 800,000 people suffer a stroke each year and approximately one out of six of these people will die from the stroke.
"Our biggest challenge with stroke is that 90 percent or more of stroke victims nationwide do not get treatment within the four and a half hour window to administer tPA, which can help dissolve the occlusion and reduce the severity of the stroke," says Dr. Gonzalez. This was not the case for Jim.
Because of the quick and astute assessment of the Bellevue ED staff, Jim was promptly transported to the Nebraska Medical Center campus for the mechanical thrombectomy surgery.
Dr. Surdell and the stroke team were waiting as the ambulance pulled up. He immediately went into surgery. Several hours later, Dr. Surdell came out. "He said Jim was doing well and I could go up and see him," says Pam. "He looked better but he was still unresponsive."
Because of the quick diagnosis and decisions made by Nebraska Medicine's stroke team, Jim survived his stroke and is recovering remarkably.
"The whole experience was like a well-rehearsed ballet from the paramedics who arrived at the scene to the staff at Nebraska Medicine," recalls Pam. "We feel so fortunate that we got to the right place. There were so many things that had to happen at the right time and in the right order and it all unraveled just like it should. All the tools were definitely in the toolbox for us that day."
Jim remained in the intensive care unit for four days before he was transferred to the stroke floor. This was followed by a week of intense rehabilitation in which he worked on things like speech, balance, walking, dressing and showering. He steadily progressed. He continued speech therapy twice a week for the next year and is now down to once a week. His strength and stamina also have returned.
"They told me to give it a year before I would have my energy back again, and it took 10 months," says Jim. "I'm feeling good about that."
He says he still has some difficulty with recalling words, but most would never know it. Over the last year and a half, Jim has slowly added former activities into his schedule. But he is most anxious to get inside a cockpit again.
A retired navigator with the United States Air Force, Jim retired from the 55th Wing at Offutt Air Force Base in 1993 after 28 years of service. Jim has led an active retirement. He helps build houses for Habitat for Humanity and is a search and rescue team member for the Civil Air Patrol. He has also been on the ski patrol for Crescent Ski and a volunteer for the Metro Omaha Motor Assistance. Just before his stroke, Jim had purchased his first single-engine airplane — a Beachcraft BE-35, V35. His friends take him for rides occasionally, but Jim has to wait two years from the day of his stroke before he can be approved to fly again. One year down, less than a year to go, says Jim.
The Arbuckles have more trips planned. World travelers, they have visited more than 83 countries throughout the years.
"Apparently, Jim must still have something left to do in this world," says Pam, adding that she is forever thankful to God and Nebraska Medicine that Jim is still here today.
Jim's only regret: "That they didn't put me in a helicopter when they transported me to Nebraska Medicine – Nebraska Medical Center," he laughs. "Riding in a helicopter has been on my list for a long time."
Helicopter rides, flying his new single-engine airplane and traveling with Pam — while they are all on his bucket list, today they seem like small goals in the big picture of life, thanks to the dedicated stroke team at Nebraska Medicine.
Common Signs of a Stroke:
SUDDEN NUMBNESS OR WEAKNESS OF THE FACE, ARMS OR LEGS
SUDDEN CONFUSION OR TROUBLE SPEAKING OR UNDERSTANDING OTHERS
SUDDEN TROUBLE SEEING IN ONE OR BOTH EYES
SUDDEN TROUBLE WALKING; DIZZINESS, OR LOSS OF BALANCE OR COORDINATION
SUDDEN SEVERE HEADACHE WITH NO KNOWN CAUSE
Stroke is the third leading cause of death in this country. Nearly 800,000 people suffer a stroke each year and approximately one out of six of these people will die from the stroke.